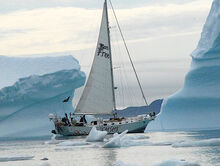 The Berserk was a Norwegian yacht captained by Jarle Andhøy and his crew of four which include Samuel Massie, Leonard Banks, Robert Skaanes, and Tom Gisle Bellika. Jarle Andhøy and Samuel Massie abandoned ship and set out for Amundsen Scott Station on ATVs leaving their crew to their fate. The Berserk sank with all her crew on February, 22, 2011 and all that was found of them was their life raft punctured and torn to shreds.
An Illegal Expedition
Edit
During the filming of Whale Wars the Berserk fallowed Sea Shepherd and ICR to Antarctica and deployed Andhøy and Massie at Shackleton's Hut and anchored at Horseshoe Bay but a storm blew in and the ship disappeared.
At 5:20 AM on February 22, 2011 Berserk's EPIRB was activated and was picked up by ICR, Sea Shepherd, The New Zealand Navy, and the Russian icebreaker Spirit of Enderby who was conducting tours for National Geographic and Polar Cruises. Within moments of the EPIRB going off the Steve Irwin, the Spirit of Enderby, and the HMS Wellington raced to the scene. ICR and the Bob Barker stayed out of the search since both were taking part in Whale Wars.
The Search
Edit
Chris Aultman took off in the chopper and started his search at Shackleton's Hut and worked along the coastline heading south towards McMurdo Base, The Steve Irwin went east towards Horseshoe Bay and the Ross Sea, the Wellington went west towards Pine Island, and the Spirit of Enderby went north towards the fleet no sign of the vessel was found. During the search the Wellington lost one of her life rafts and Sea Shepherd recovered it. On February 28, 2011 Chris Aultman took off for the final time there in the waters of the Ross Sea not far from McMurdo Base was a small six man life raft. The mooring line was torn to shreds as was the raft indicating the boat had gone down. Sea Shepherd brought the raft aboard and at 1:45 PM on February 28, 2011 The New Zealand Navy called off the search and the Berserk crew were declared dead.
Andhøy and Massie Get Arrested
Edit
On February 27, 2011 Andhøy and Massie reached Amundsen Scott Station and were immediately placed under arrest. They radioed the Steve Irwin that they were at the base and gave the last known position to the fleet before the search was called off. Hours later the two stowaways were loaded onto a hagglund in handcuffs and transported to McMurdo Base where they were loaded onto a US Coast Guard C-130 and transported to New Zealand where they were put in prison, tried in court, and deported back to Norway.