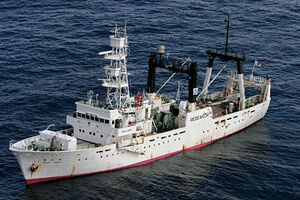 The Kaiko Maru was a former spotter ship for the ICR's whaling fleet. In 2011, the ship was sold to Special Vessel Services and renamed SVS Frobisher.
The Kaiko Maru played the role of a spotter ship for the Japanese whaling fleet, locating whale pods and relaying locations to the harpoon ships.
In 2007, the Kaiko Maru was spotted by the Greenpeace vessel Esperanza and the Sea Shepherd ship Robert Hunter. The Esperanza hid to avoid detection, but the Robert Hunter engaged the Kaiko Maru with an inflatable boat. The Delta deployed a prop fouler that stopped the whaling ship. The Kaiko Maru and Robert Hunter collided side by side. The Sea Shepherd vessel Farley Mowat caught up with the two ships. The Kaiko Maru issued a mayday, and both Sea Shepherd ships as well as the Esperanza responded.
In 2008, the Kaiko Maru was spotted by the Steve Irwin (the former Robert Hunter) on radar in a thick fog. The Steve Irwin caught up with the ship and engaged it with butyric acid. The ships collided near the stern.
In 2011, the Kaiko Maru was sold to a South African company Special Vessel Services and converted into a guard ship named SVS Frobisher.