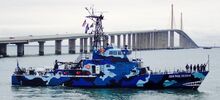 The MY John Paul DeJoria is a former Island Class security vessel operated by Sea Shepherd. It's former name was the USCG Pea Island. Originally the vessel was called Jules Verne but Sea Shepherd was forced to change it after they got into a lawsuit with the copyright holder. It's first mission was to look for a drowning man off the Florida Keys. The John Paul DeJoria is currently in route to the Cayman Islands as part of Operation Treasured Islands a new campaign whose goal is to stop shark poachers in and around Galapagos.
Hurricane Relief
Edit
After Hurricane Harvey and Irma destroyed Key West Paul Watson ordered the vessel out of port to do what it did in its previous life which is to save lives. Currently the John Paul DeJoria is in the Gulf of Mexico delivering supplies to hurricane victims and getting ready for their next campaigns.
Operation Milagro 4
Edit
The Fleet has departed from Key West and from Mexico to the Sea of Cortez. Their goal is the same as the last three campaigns stop the vaquita porpoise from going extinct and stop the Mexican drug cartels from deploying their driftnets in the Sea of Cortez to kill them and the totoaba bass which is hunted for it's swim bladder and sold on the Chinese Black Market along with tusk, rhino horns, fur, shark fin, and yes whale meat. Sea Shepherd vows to stop them and prevent both species from going extinct. This year they will use three vessels all cutters to track down the poachers and arrest them. On March 7th for the first time since they retired from the Coast Guard the three sisters met in the Sea of Cortez. On the left was the John Paul DeJoria, in the middle was the Farley Mowat, and on the right was Sharpie. Three sisters with one mission to save two species from extinction.
Arrest of the Damanzaihao
Edit
On May 28th 2018 The Government of Peru has arrested the factory ship Damanzaihao the Damanzaihao is wanted for unpaid port fees, processing of an illegal catch, mixing an illegal catch with a legal catch, polluting a marine sanctuary,poaching, and human trafficking. Responding to a tip from the locals and their rival Greenpeace the John Paul DeJoria was dispatched to Peru to seize the vessel and prevent it from leaving port. Sea Shepherd and Greenpease are working with the coast guard to keep the Damanzaihao in port and are in the process of arresting it's crew.