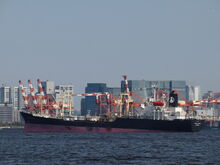 Oriental Bluebird was the tanker of the Japanese ICR Whaling Fleet and their main supply vessel. This vessel is the most notorious of the Japanese Whaling Fleet because it has changed its name twice. For most of its career with the Japanese Whaling Fleet it was known as the Hyro Maru. ICR sold the ship to Panama in 2002 where is received its name Oriental Bluebird. Throughout the 1990s Sea Shepherd and Greenpeace have had confrontations with this vessel while it was refueling Nisshin Maru and transferring whale meat and supplies between the vessel. In 2008 ICR and Panama got into a lawsuit with the International Court of Justice and IMO which caused the vessel to be stripped of its Panamanian and Japanese flag. In 2010 the Oriental Bluebird was towed to Shenzhen China where it was sold for scrap it has since been replaced by the Sun Laurel.
2007-2008 Season Operation Leviathan
Edit
In 2007 and 2008 during Operation Leviathan Sea Shepherd and Greenpeace documented and later video taped and photographed the Oriental Bluebird transferring fuel and whale meat from the Nisshin Maru. Greenpeace being the idiots that they are tried to stop the fuel transfer by moving their zodiac between the two ships as they were fueling and transferring supplies. Greenpeace tagged the Oriental Bluebird on both sides and on the stern saying that it was a whale meat transporter. The zodiac got crushed by the Nisshin Maru who moved in during the fuel transfer very close to the ship attempting to kill the Greenpeace protesters. After their handiwork was done Greenpeace picked up the crew members and returned to the Esperanza. Hours later the Farley Mowat rammed the Oriental Bluebird and tore a six inch gash into the hull. As the campaign wrapped up the unthinkable happened Nisshin Maru caught fire and one of her crew members was killed. The Yushin Maru No. 2 and the Oriental Bluebird towed the floundering vessel back to Japan where the Nisshin Maru was repaired escorted by Greenpeace and Sea Shepherd.
Final Campaigns and Scrapping
Edit
The Oriental Bluebird took part in Operation Migaloo and Musashi before the ship was reflagged in 2008 for violating the laws of Panama. In 2010 Oriental Bluebird was deflagged by Japan and sold to Shenzhen China where it was scrapped. ICR has replaced the Oriental Bluebird with the Sun Laurel which is the current supply vessel of the Japanese Whaling Fleet.