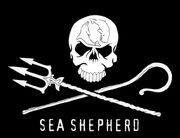 The Sea Shepherd Conservation Society is a non-profit marine conservation organization. Formerly known as the Earth Force Society, it was founded in 1977 by Paul Watson, a former founder of Greenpeace.
The organization was founded by Paul Watson after he was removed from the Greenpeace Board of Directors for taking a more aggressive approach in conservation. Paul Watson left Greenpeace all together to found the Earth Force Society, later known as the Sea Shepherd Conservation Society. Sea Shepherd was poor and relied on grants from the Fund for Animals to secure their first vessel, the Sea Shepherd.
The group made their first big headlines when the Sea Shepherd rammed and shut down the pirate whaler Sierra in 1979. Sea Shepherd continued their mission by claiming responsibility for the sinking of dozens of whaling vessels.
Since its start, Sea Shepherd has opened up campaigns all over the world to protect all sorts of animals and marine environments. The Animal Planet TV show Whale Wars dramatically boosted Sea Shepherd's publicity. The show follows the Sea Shepherd's campaigns against the Japanese's Antarctic whaling operations, starting in 2008.
Main article: Neptune's Navy
Sea Shepherd refers to its ships as Neptune's Navy. The organization currently operates twelve ships, but has owned several ships in total.
Current
Past
Leased
External links
Edit