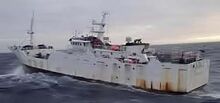 Songhua is an illegal fishing vessel wanted by Interpol for poaching and fisheries violations. She is one of The Bandit 6.
Operation Icefish
Edit
The goal of Operation Icefish is to create an international incident and shutdown these boats who have been coming to Antarctica to poach since the 1960s. On February 2, 2015 The New Zealand Navy, Sea Shepherd, and The Australian Navy caught the Perlon, the Songhua, the Yongding, and the Kunlun fishing illegally in Antarctic waters and chased them out with all four vessels headed north.
in January of 2015 Yongding was boarded along with her sisters Kunlun and Songhua by the New Zealand Navy, Sea Shepherd, and the Australian coast guard and was chased out of Antarctica. On the morning of May 20th 2015 Captain Peter Hammarstedt of the Bob Barker found both the Songhua and Yongding in Cabo Verde doing in an illegal offload and called the police. Hours later Yongding and Songhua were arrested and are currently in a South African impound yard awaiting sale and eventual scrapping.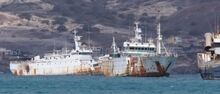 Escape Attempt
Edit
Since 2015 Songhua and her sister Yongding have attempted to escape from jail. Songhua is operating under the alias Pescacisne 2 but has not been successful in getting registered. Because she has an Interpol Purple Warrant for her arrest she is still detained in Mindelo unable to leave port. Vidal attempted to register her in Chile but her licence was struck along with her flag.