Yongding is an illegal fishing vessel wanted by Interpol for piracy, poaching, and fisheries violations. Yongding is known to change names. Yongding is a member of The Bandit 6.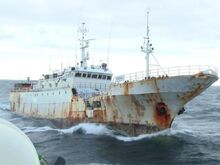 Operation Icefish
Edit
Yongding is well known by Sea Shepherd and NGO's like Greenpeace for changing her name. In her 20-year career this vessel has been known to change her name at least 10 times. Yongding has had recent clashes with both Sea Shepherd, Greenpeace, the New Zealand Navy, and the Australian Coast Guard and each time she managed to slip through their fingers until now.
in January of 2015 Yongding was boarded along with her sisters Kunlun and Songhua by the New Zealand Navy, Sea Shepherd, and the Australian coast guard and was chased out of Antartica. On the morning of May 20th 2015 Captain Peter Hammarstedt of the Bob Barker found both the Songhua and Yongding in Cabo Verde doing in an illegal offload and called the police. Hours later Yongding and Songhua were arrested and are currently in a South African impound yard awaiting sale and eventual scrapping.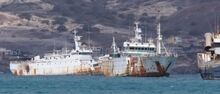 Escape Attempt
Edit
Since 2015 Yongding has attempted to escape from jail. Recently she changed her alias to Atlantic Wind and tried to register in Tanzania but got denied. Sea Shepherd is watching the port to make sure she does not escape.